iran visa fees Visitors to Iran must obtain a visa from one of the Iranian diplomatic missions unless they come from one of the visa exempt countries or countries eligible for a visa on arrival. All visitors must hold a passport valid for at least 6 months. Admission is refused to women not wearing Islamic head cover, scarf, long sleeves and stockings. Citizens of Israel are totally banned from entry to Iran.
iran visa price
iran visa a price Iranian authorities are exploring a potential visa waiver program under which visa limitations for 60 countries will be lifted as part of Iran's program to attract more tourists.

iran visa cost
iran visa cost Citizens of both Iran and another country count as citizens of Iran when visiting, and must have an Iranian passport. This includes all whose Mother and father and husband or Children born abroad is Iranian.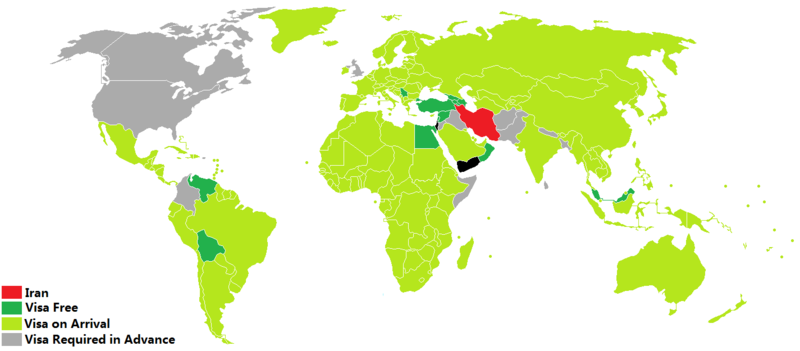 Iran Visa Policy
Holders of normal passports travelling as tourists can obtain a visa on arrival for a maximum stay of 30 days (extendable), at the following airports, as of January 2018:

Bandar Abbas International Airport (Bandar Abbas)
Isfahan International Airport (Isfahan)
Kish International Airport (Kish Island)
Mashhad International Airport (Mashad)
Qeshm international Airport (Qeshm Island)

Shiraz International Airport (Shiraz)
Tabriz International Airport (Tabriz)
Imam Khomeini International Airport (Tehran)
Mehrabad International Airport (Tehran)

Urmia Airport (Urmia)

Ahvaz International Airport (Ahvaz)

Kerman Airport (Kerman)

Larestan International Airport (Lar)
Note: to obtain a visa on arrival, passengers must already have made an application, at least 2 days prior to arrival, at the Iranian Ministry of Foreign Affair's E-Visa website and present the submission notification at the airport's visa desk on arrival.

iran visa
Plans to increase tourism
Iran plans to increase the length of stay from 1 month to 3 months. Visas on arrival will be available at Shahid Sadooghi Airport in the near future.

Visa on arrival is not applicable to nationals of the following countries who must obtain a visa in advance:

Afghanistan
Bangladesh
Canada
Colombia
Iraq

Jordan
Nepal

Pakistan
Somalia
Sri Lanka

Syria

United Kingdom
United States